This is what you get when you click File... File Properties... List <Alt+Ctrl+F12>: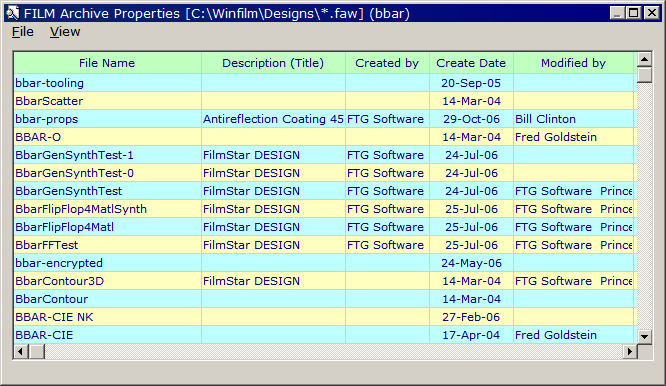 The View menu provides a number of ways to select files. Clicking on the green header row sorts the corresponding column; click again to change from ascending to descending order. You can expand column widths or hide columns you are not interested in (settings are retained). Right click a row to view the Comments field.
In DESIGN, FilmStar Administrators have an extra menu which provides means to set the entire 'Created by' column (Author) to a particular User Name. This is useful when designs in separate directories (each belonging to one user) are combined into one directory. The Administrator can specify that only an Author can overwrite his own files via Author Only or Author Log-on settings. In Author Only mode, User Names can only be changed by the Administrator. Author Log-on is appropriate when multiple users share a computer. FilmStar Administrator status is programmed into a Security ID Module; please contact FTG Software for further technical and cost information.
Clicking a file name opens the FILM Archive, Index Table or Spectrum file. In the DESIGN Film Indices editor clicking a file name inserts it in the active row under Dispersion. This is handy when there are a large number of index files. Here we selected 'tio2 files', thereby eliminating hundreds of names in the pull-down dispersion list.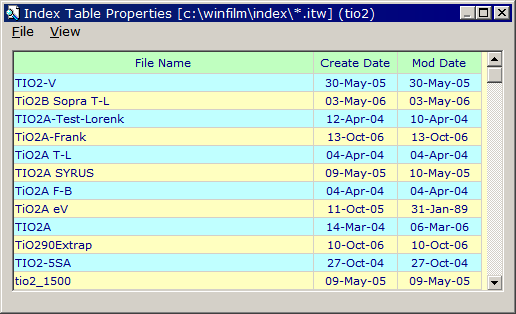 Index Table properties are accessed in DESIGN's Film Indices dialog through File... Properties List <Ctrl+P>. These properties must first be enabled in INDEX in order to appear in DESIGN. To inform DESIGN that index file properties are enabled, exit INDEX and restart DESIGN. MEASURE users have the possibility of Spectra... File Properties... Edit <Shift+Ctrl+F11> (or List <Alt+Ctrl+F11>) in MEASURE and Spectra... File Properties List <Alt+Ctrl+F11> in DESIGN. To inform DESIGN that spectra file properties are enabled, exit MEASURE and restart DESIGN.
*If the 'Enable file properties' check box is not visible, it's because your license does not include the FilmStar Database capability. Please contact FTG Software.