FilmStar data entry grids include keyboard shortcuts which can be much faster than using the mouse. As an example, bring up the Optimization Targets dialog and try the following:
Ctrl+Up          go to top row
Ctrl+Down        go to first empty row
Shift+Ctrl+Up    highlight column to top
Shift+Ctrl+Down  highlight column to bottom
Ctrl+Left        go to first column
Ctrl+Right       go to last column
Suppose you need to change angles to 15 degrees. Type 15 in the top row and copy that value to the clipboard with Edit Copy <Ctrl+C>; then highlight the column and click Edit Paste <Ctrl+V>. The Targets dialog offers another method. Type the required value and click Edit Spawn Cell <Ctrl+W>. The value is duplicated in cells below.

Other hints: Make use of the Edit Sort command in some grids. Rows can be managed with Edit Insert Row <Ctrl+I> and Edit Delete Row <Ctrl+D>. To edit a cell rather than overwrite it, press <F2> or <Insert>. To clear an entire grid, click on the upper left box to highlight it and then press <Delete>; alternatively, hold down <Ctrl+D> until all rows are deleted.
For enhanced readability, try setting Grid row colors in File Configuration Preferences Grid Style to Cyan-Yellow (as shown below) or to the colors of your choice. This applies to most grids with multiple columns.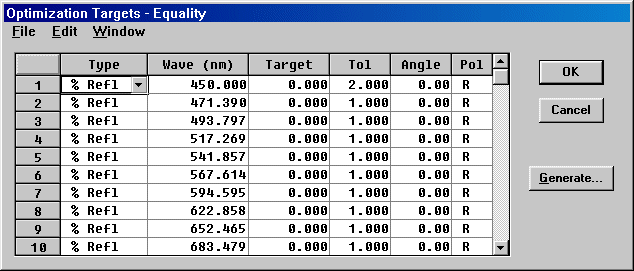 The (default) view you are used to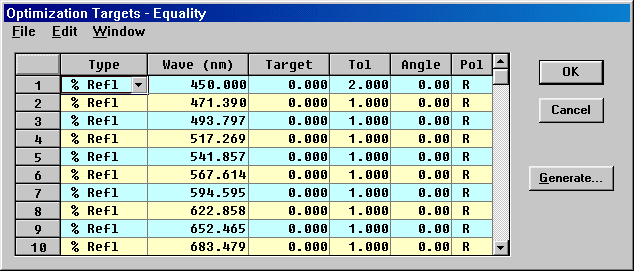 Much better, isn't it?