FilmStar runs under Vista/Win 7-10, but some adjustments may be required. We suggest that you turn off UAC (User Account Control) during installation. MEASURE versions which directly control the serial port (Mpe983, Mh3410) work with 64-bit Windows. Mpe19AX requires 32-bit Windows. Contact FTG for further information regarding compatibility with 64-bit Windows.

To disable UAC, from Control Panel select User Accounts and locate the Turn User Account Control... link. Clear the UAC checkbox and reboot. Disabling UAC gets rid of annoying 'Windows needs your permission to continue' dialogs. On the other hand, you (or your IT department) might not want to disable the feature.
More about disabling UAC: Vista, Windows 7
1. LIKELY PROBLEM...If you get Unexpected error; quitting at startup, (A) disable UAC (User Account Control) or (B) right click and select 'Run as administrator'. Then select Allow. The next time the program runs normally. Repeat the procedure for each FilmStar program. Lack administrator privileges? Contact IT to implement step B. Avecto Privilege Guard and similar systems may require IT action.
2. POSSIBLE MESSAGE... In reponse to This program might not have installed correctly we found no problem after clicking This program installed correctly.

3. POSSIBLE PROBLEM...Contact your IT department

4. SYMANTEC ENTERPRISE PROTECTION (and similar)...White-list ftgsoftware.com in your SEP Cloud configuration. Setup32.exe may require Run as administrator. FALSE POSITIVES ARE COMMON in anti-virus programs. Infrequently downloaded files (e.g. coating software) are automatically flagged as spam by 'reputation'.

5. POSSIBLE PROBLEM (seemingly more likely with Windows 10)...The USB License Key driver was not installed, possibly because UAC was not disabled. In that case disable UAC and try again. In some cases you need to run a standalone installer. The unzip password is in FilmStar News and other FTG support documents.

In Dec 2017 a user reported that the installer failed. This had never happened before. Key manufacturer Gemalto offered to re-install via screen-sharing, thereby violating the user's IT policies. As an alternative, Gemalto requested the following information and a screenshot of the error message observed while installing the run-time driver. (<Alt+PrtScr> captures the error message instead of the whole screen.)

1. All files from C:\ProgramData\SafeNet Sentinel\Sentinel LDK\LogFiles
2. aksdrvsetup.log file located in C:\Windows
3. SetupAPI.dev.log file located in C:\Windows\inf\
4. Include the system information file (.nfo) file by following these steps:
a. On the Start menu (Windows), click Run.
b. In the Run dialog box, enter MSINFO32.
c. In the System Information dialog box, on the File menu, click Save.
d. In the Save As dialog box, make sure that the file type is System
Information File (*.nfo).
e. Enter a name for the file. Click Save.

5. Open command prompt on the affected machine and run as Administrator
and execute netstat -ab >C:\netstat.txt and share the netstat.txt created
at C:\ folder for further analysis.

After assembling the information, contact Gemalto support at 800-545-6608 (+1 410-931-7520 outside USA). If calling between 9 AM and 4 PM PST, ask to speak to Anurag Chandra who is currently (Dec 2017) assigned to the case. Please cite case CS0610074.

6. EXCEL VIEWER...FTG programs assume that XLVIEW.EXE is installed in
32-bit Windows C:\Program Files\Microsoft Office\Office12
64-bit Windows C:\Program Files (x86)\Microsoft Office\Office12
"Program Files" will be different in non-English Windows. If XLVIEW.EXE is not in the default location, add a line under [Interface] in C:\Winfilm\Config\Common.ini as follows
XLExecute=C:\Program Files\Microsoft Office\Office12\XLVIEW.EXE
replacing the path with one correct for your system. You can also substitute EXCEL.EXE but we think the Viewer is more appropriate and certainly more secure.

7. UNIMPORTANT PROBLEM...Vista/Win 7 omit the WinHlp32.exe viewer for *.hlp help files. This is no problem because FilmStar uses HTML help. There is one place, however, where WinHlp32 is accessed: pressing the '?' icon in the BASIC UserDialog editor. You will probably never do this, but just in case here is what happens: On accessing WinHlp32 for the first time you arrive at a Microsoft site informing you that the help is obsolete, but they'll let you view it anyway. We've uploaded Microsoft's help installers for your convenience: 32-bit help installer, 64-bit help installer for newer computers. If you download from the Microsoft site, note that '64' indicates the 64-bit installer and '86' the 32-bit installer.
8. REMOTE ACCESS...The HASP security key is not recognized when FilmStar is installed on a Windows 7 host and accessed remotely via Windows Remote Desktop (WRD). This relates to security features in Windows 7 and is not considered to be a bug.

FTG has verified that GoToMyPC and LogMeIn are FilmStar-compatible. If your organization insists on WRD please read the following:

WRD works if the Windows 7 host is in Virtual XP Mode. This requires that FilmStar is separately installed. Windows 7 Pro or Ultimate is required. Windows 8 does not support XP Mode.

XP files can be shared with the native Windows 7 installation. Assuming that data are stored on the hard drive of the host computer, one only needs to change

C:\Winfilm to \\tsclient\C\Winfilm

in File...Configuration...Directories. BASIC macro file names need to be changed as well, etc.

File sharing requires that Integration Features are enabled in the XP Tools menu. If the HASP key is still not recognized, you probably need to click Attach in the USB pull-down as shown below.


Option 1 GoToMyPC


Option 2 Virtual XP Mode

Tablet users: We have tested Android versions of LogMeIn and GoToMyPC as shown below. We assume iOS is similar. Both offer a free trial period.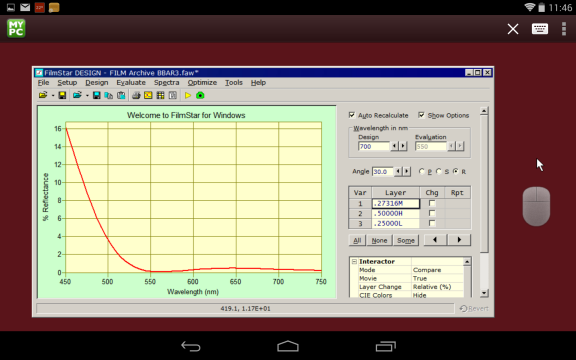 GoToMyPC on Nexus 7 tablet (Android 4.4.2)