Perkin Elmer Lambda 2 Cable
This document refers to PE Lambda 2 and similar models (10/12/14) with a serial connector which can be configured as printer or computer port. The wiring diagram below refers to the 25-pin male connector on some instruments. The cable can be user-wired or purchased from PerkinElmer (PN B0180242). FTG cannot guarantee its suitability for all Lambda revisions. Later instruments use a standard DB-9 female to DB-9 male serial cable.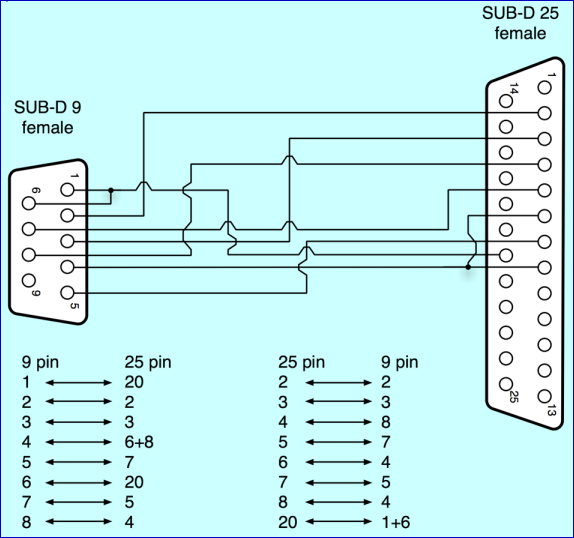 Courtesy of Universitšt Bremen
This is NOT a standard 25 to 9 pin serial cable!
If the system does not work with FilmStar MEASURE/Scantraq it is likely the port is set to printer, not computer. This is easily changed in SuperUser mode:
Activating SuperUser Mode...SuperUser mode gives you access to all the branches in the instrument. You activate SuperUser mode as follows:
1. Switch off the spectrometer.
2. Wait about two minutes to allow the lamps to cool down.
3. Press [1] [5] [-] (one, five, minus) simultaneously.
4. Keep the keys pressed and switch on the spectrometer.
5. Release the keys when the display appears.
The SuperUser mode is now active. You then need to find the CONFIGURATION menu, scroll to RS-232 PORT CONFIG and select COMPUTER.
According to a user in Germany...
Press STOP twice to get to the top level of the menu; select CONFIGURATION menu and press PARAMETER twice (first time doesn't seem to be doing anything, but second press will get you to where you need to go); Change configuration to COMPUTER and press START to save.
Deactivating SuperUser Mode
1. Switch off the spectrometer.
2. Wait about two minutes to allow the lamps to cool down.
3. Switch on the spectrometer.
The SuperUser mode is now deactivated. For accuracy, the numbered steps above were copied directly from PerkinElmer documentation.