Correct calculations for coatings on multiple substrates (laminated structures). 'Correct' means that the system is treated as a single design and that multiple reflections are included. Your current software may not provide this capability.

Automate window reflection and transmission measurements, creating LBL Window files (*.itd).

And by 'automate', we mean actually run your PE or Varian spectrophotometer. Why suffer with the chemistry software you're using now?

Integrated industry-standard database technology keeps track of coating results and lets you select and compare spectra according to any criteria.

Numerous tools for determining n,k and working with mixed materials.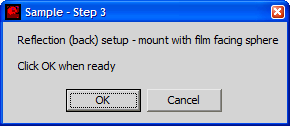 'What to do next' dialog in FilmStar sequence to measure
an architectural window and create an LBL Window file
---