Don't miss Excel extends optical coating software capabilities in Laser Focus World, April 2014.

Click here to read the article; click here to access freely available Excel workbook examples (Reference 1 in the article).
FilmStartm is a powerful and easy-to-use suite of Windows programs
for designing, manufacturing, and measuring optical coatings.
| | |
| --- | --- |
| DESIGN | Designs and optimizes optical thin film coatings. A Free Version with fixed indices is available. |
| INDEX | Maintains dispersive index files and functions |
| MONITOR | Optional...converts designs to manual or automatic optical monitor settings |
| CRYSTAL | Optional...uploads designs to INFICON and Sycon deposition controllers |
| MEASURE | Optional...controls and acquires data from spectrophotometers. This program is also marketed to chemists and spectroscopists as Scantraq. |
FilmStar Development System
While many users just operate FilmStar from its friendly menus and dialog boxes,
FilmStar includes powerful and flexible built-in programmable modules.
These modules work together. For example, a report generated by BASIC and printed in the report generator can include workbook calculations. There are numerous benefits:
Entire coating design catalogs can be printed automatically.
Macros can be run during optimization. As an example, it is possible to design CIE color coatings where the specification includes two illuminants incident from opposite directions.
Users can select measured data files with industry-standard SQL commands and automatically run programs to examine spectral yields over a period of time.
Users can evaluate and optimize spectral functions not originally in the program.
Engineers with moderate programming skills can set up one-button processes for coating technicians. This is especially crucial in quality-control.
Supplementing its built-in programmability, FilmStar is highly integrated with other Windows applications via DDE (dynamic data exchange) and 32-bit Automation (ActiveX). Many data types can be imported and exported. DESIGN and MEASURE can receive commands from Excel, Labview and many other Windows applications.
A feature in all programs is the FilmStar Administrator. This makes it possible to protect designs and spectral data as well as assure auditors that quality assurance procedures are being followed.
As shown here, the MEASURE FilmStar Administrator can set a computer so that technicians can't change scan settings or other critical parameters. Copies of DESIGN installed in coating areas can be locked against unwanted design changes.
A four page printable summary of FilmStar features can be obtained by clicking here.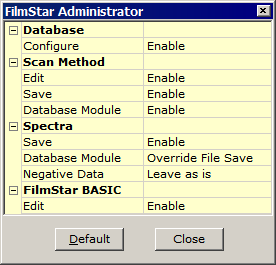 FilmStar Support Pages Updates/Installers Technical Issues/FAQ
FilmStar News E-mail Digests 2006 2007 2008 2009 2010 2011 2012 2013 2014
For further information please contact
Spam filters are not 100% accurate. If we do not reply to your e-mail in a timely manner (3-4 days) please inform us by fax (preferred) or telephone.
Fred Goldstein
FTG Software Associates
Post Office Box 579
Princeton, NJ 08542 USA
Tel (609) 924-6222
Fax (609) 482-8060
info@ftgsoftware.com
Users in the following countries can contact the representatives listed below
Copyright © 2014 FTG Software Associates
Last updated on April 11, 2014